Luna Analytical & Precision Balances
Luna offers durability, performance and elegance for an impressive weighing experience. Capacities range from 80g to 250g with a readability of 0.0001g for analytical models, while precision models feature capacities from 220g to 15000g and readabilities from 0.001g to 0.1g. Luna boasts a large, grade 304 stainless steel pan for easy cleaning and a sealed keypad for protection against dirt and spills.
For more information on the Luna, contact sales@adamequipment.com.
Please send me information on the Luna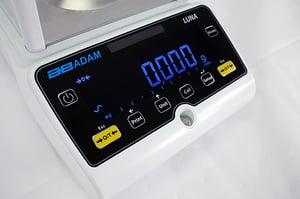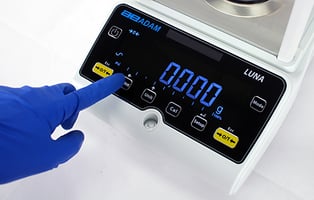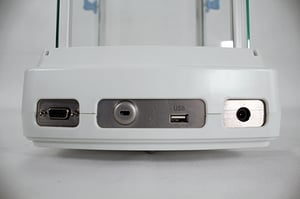 Vivid, backlit LCD easily visible in any lighting conditions
Color-coded keys facilitate quick recognition of the most frequently used buttons
Level indicator and adjustable feet ensure proper balance setup for optimum weighing results
Security slot for optional Kensington-type lock and cable to help prevent theft
Large, grade 304 stainless steel pan allows swift cleaning
Sealed keypad protects against dirt and spills
USB and RS-232 interfaces provide speedy communication with computers and printers
AC adapter included
External calibration allows for verification and adjustment with weights
Hold function freezes the displayed weight, allowing time to elapse without losing the result
Multilingual display permits use in various regions
Parts counting with preset sample sizes
Printouts include date and time for data tracking within Good Laboratory Practices (GLP) guidelines
Selectable digital filtering for animal/dynamic weighing enables consistent results for moving subjects
Auto power-off to save energy







e = external calibration / i = internal calibration
Analytical External and Internal Calibration
| | | | |
| --- | --- | --- | --- |
| Model | Capacity | Readability | Pan Size |
| LPB 84e/i | 80g | 0.0001g | 3.1" / 80mm ø |
| LPB 124e/i | 120g | 0.0001g | 3.1" / 80mm ø |
| LPB 214e/i | 210g | 0.0001g | 3.1" / 80mm ø |
| LPB 254e/i | 250g | 0.0001g | 3.1" / 80mm ø |
Precision External and Internal Calibration
| | | | |
| --- | --- | --- | --- |
| Model | Capacity | Readability | Pan Size |
| LAB 223e/i | 220g | 0.001g | 4.7" / 120mm ø |
| LAB 423e/i | 420g | 0.001g | 4.7" / 120mm ø |
| LAB 623e/i | 620g | 0.001g | 4.7" / 120mm ø |
| LAB 823e/i | 820g | 0.001g | 4.7" / 120mm ø |
Top-Loader External and Internal Calibration
| | | | |
| --- | --- | --- | --- |
| Model | Capacity | Readability | Pan Size |
| LTB 2602e/i | 2600g | 0.01g | 7.3x7.3" / 185x185mm |
| LTB 3602e/i | 3600g | 0.01g | 7.3x7.3" / 185x185mm |
| LTB 4602e/i | 4600g | 0.01g | 7.3x7.3" / 185x185mm |
| LTB 6002e/i | 6000g | 0.01g | 7.3x7.3" / 185x185mm |
| | | | |
| --- | --- | --- | --- |
| Model | Capacity | Readability | Pan Size |
| LTB 6001e | 6000g | 0.1g | 7.3x7.3" / 185x185mm |
| LTB 8001e | 8000g | 0.1g | 7.3x7.3" / 185x185mm |
| LTB 12001e | 12000g | 0.1g | 7.3x7.3" / 185x185mm |
| LTB 15001e | 15000g | 0.1g | 7.3x7.3" / 185x185mm |